BEARD + HAIR ELIXIR
Haircare isn't just for the ladies anymore. And what's a better way to amp-up your routine than with a multipurpose oil to tame unruly hair? Make your grooming routine uncomplicated and toxin-free with The Innate Life Beard + Hair Elixir. It can be used daily or whenever your beard + hair need a quick pick-me-up. Use it on freshly washed beard to grow, tame and repair. It can also be used on dry or damp hair to nourish split ends, tame frizzy hair, repair damaged hair and add shine. This little bottle does it all! All that and a classic, musky scent to top it off. Guaranteed a perfect gift for any man in your life, because sometimes, they are just too stubborn to buy it for themselves.
Tames both frizzy hair strands + dry facial hair

Supports facial hair growth

Repairs damaged hair + split ends

Soothes lesions + shaving wounds

Nourishes split ends + adds natural shine
KEY FEATURES
Our Beard + Hair Elixir is packed with over 16 herbal oils that are key for repairing and maintaining the quality + health of your hair lengths. With daily use, you can rejuvenate your hair + facial hair texture, strengthen your strands, and add natural shine.

Eucalyptus Essential Oil contains antibacterial, anti-inflammatory, and moisturizing properties. It contributes to healing wounds and soothing pain, while keeping your skin moisturized.
Sea Buckthorn Fruit Oil is known as a 'super fruit of skin care' – rich in vitamins, fatty acids, and antioxidants. It repairs + soothes skin inflammation, prevents acne breakouts, hydrates + locks in moisture to your skin, improving elasticity.
Rosehip Fruit Oil is rich in Vitamin A, C, essential fatty acids and antioxidants – all necessary for skin renewal + repair. It contains anti-aging properties by boosting collagen + moisturizing skin. This helps in smoothing out fine lines, improving skin elasticity, and reducing the appearance of acne and scars.
Evening Primrose Oil contains fatty acids that reduce inflammation, and soothe acne + dry skin. It improves skin elasticity and soothes skin irritation + lesions from shaving or scratching. It also hydrates + retains moisture for both skin and hair, improving their protective barriers.
Pumpkin Seed Oil is an effective DHT blocker, known to solve male pattern baldness by increasing hair count. It actively blocks 5-alpha reductase, the enzyme responsible for converting regular testosterone into DHT. Less DHT means less follicle miniaturization, letting your hairs grow out and receive proper nutrients.
Sunflower Seed Oil is rich in antioxidants and Vitamin A, C, D + E and contains anti-inflammatory properties. It is powerful + effective in combating acne, inflammation, and skin irritations such as dry or itchy patches that are hard to reach.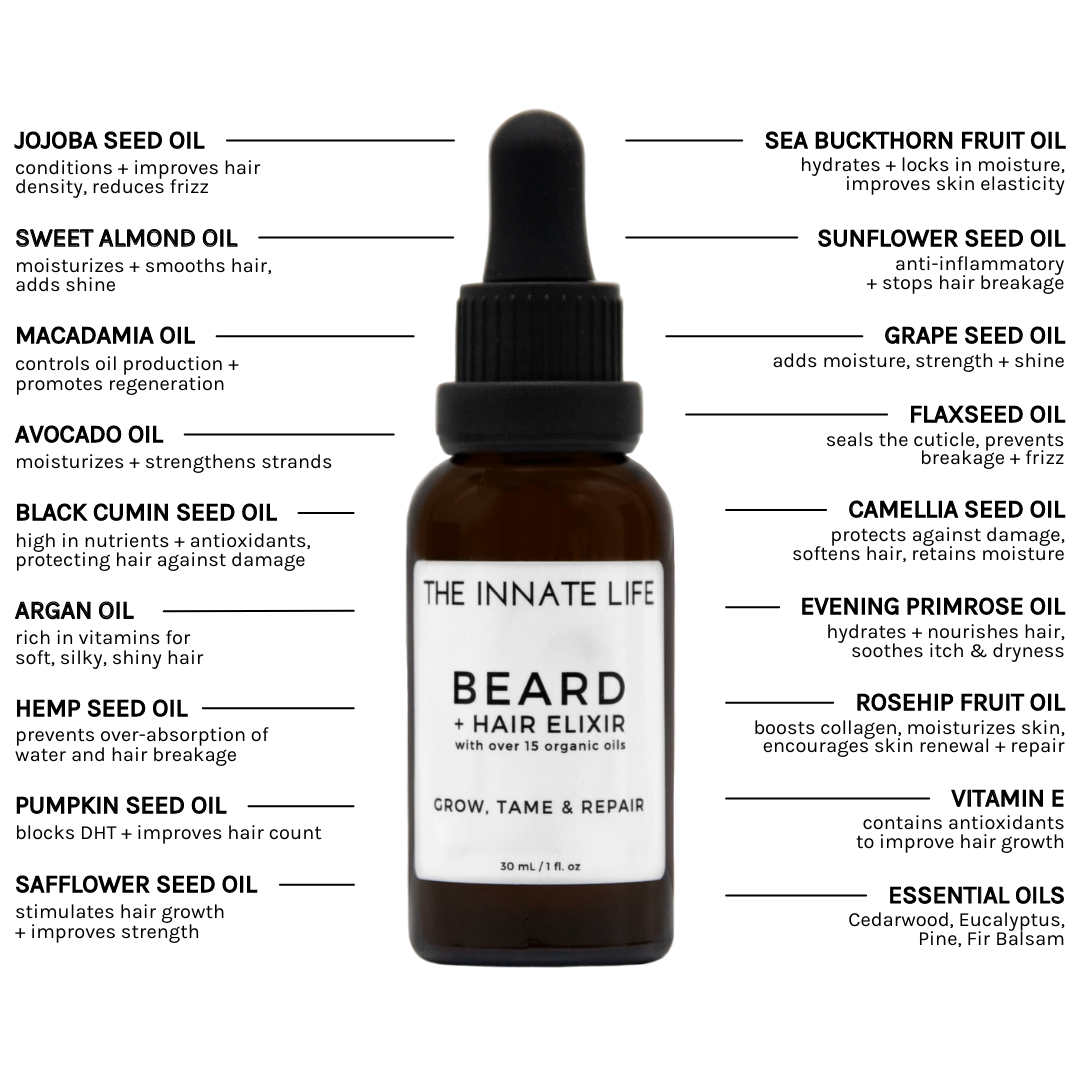 HOW TO APPLY
Using the dropper, obtain few drops of the elixir on the palm of your hands. Apply to facial hair in upward direction. Groom the beard downward with fingers or brush and style as usual. Re-apply as needed. It can also be applied to hair to add shine + control frizz. For best results, use daily. Store in cool, dry place (away from sunlight).
Frequently Asked Questions
Can I use it on my skin or face?
It is only safe for facial application with our bearded customers. This is due to its moisturizing properties specifically for the beard and the underlying skin beneath beards. Without facial hair, we do not recommend using it on your skin or face.
What does it smell like?
Its scent is made up of Cedarwood, Eucalyptus, Pine, and Fir Balsam. Our customers have described the scent as prominently eucalyptus + spearmint.
Can women use it too?
Yes, women and non-bearded customers can use it on their hair for daily moisture, just like our Rose Hair Elixir.
How many drops do I use?
We recommend applying 1-2 drops to the palm of your hands, rub together, and apply evenly. Our products are extremely concentrated with natural ingredients, therefore a little goes a long way.
For your beard, we recommend applying it in an upward direction on your beard, and massaging onto the skin underneath.
For your hair, we recommend applying it to the mid-section to the ends of your hair. 1-2 drops is a good place to start without weighing down your strands. If you feel your beard + hair need more, adjust the amount accordingly.
How often do I use it?
We recommend using it daily and when needed.
Can you use it on wet hair?
Yes, it is safe to use on wet, damp and dry hair. We encourage applying whenever it works best for you.
Do I wash it off?
It is a leave-in product for daily use. You are not required to wash it off.
Can I use it if I'm pregnant?
When using products containing essential oils, we recommend seeking advice from your doctor prior to using our products if you are pregnant or breastfeeding.
Is it vegan?
Yes, it is vegan.
Can it be used on color-treated hair?
It is not specifically formulated for color-treated hair. Having said that, many of our customers with color-treated hair use it without any issue.
Is it gluten-free?
Yes, it is gluten-free. Please note it is not formulated in a gluten-free facility.
FULL INGREDIENTS LIST
Safflower Seed Oil*, Avocado Oil*, Sweet Almond Oil*, Sunflower Seed Oil*, Grape Seed Oil*, Flaxseed Oil*, Pumpkin Seed Oil*, Macadamia Nut Oil*, Camellia Seed Oil*, Evening Primrose Oil*, Hemp Seed Oil*, Rosehip Fruit Oil*, Argan Oil*, Jojoba Seed Oil*, Sea Buckthorn Fruit Oil*, Black Cumin Seed Oil*, Vitamin E, Fragrance**.
*CERTIFIED ORGANIC INGREDIENTS
**DERIVED FROM ESSENTIAL OILS
DISCLAIMER
Always perform a patch test before applying our products. Natural + herbal products can still cause adverse reactions if you are allergic to a specific ingredient. Do not use if you have any nut allergies. Discontinue use right away if there is an adverse reaction.