Product image 1

Product image 2

Product image 3
Product image 4

Product image 5

Product image 6

Product image 7

Product image 8

Product image 9

Product image 10

Product image 11

Product image 12

Product image 13

Product image 14

MAX. HAIR GROWTH BUNDLE
Nourish your scalp and stimulate follicle regeneration with the ultimate hair growth duo. The Max. Hair Growth Bundle pairs our Derma Roller with our powerful Rosemary Scalp Treatment. By creating microwounds on your scalp using our Derma Roller, these entryways will absorb the Rosemary Scalp Treatment directly into your scalp's underlayers, maximizing hair growth results. If you're ready to upgrade your haircare now, this bundle is perfect for you!
BUNDLE INCLUDES
Derma Roller
+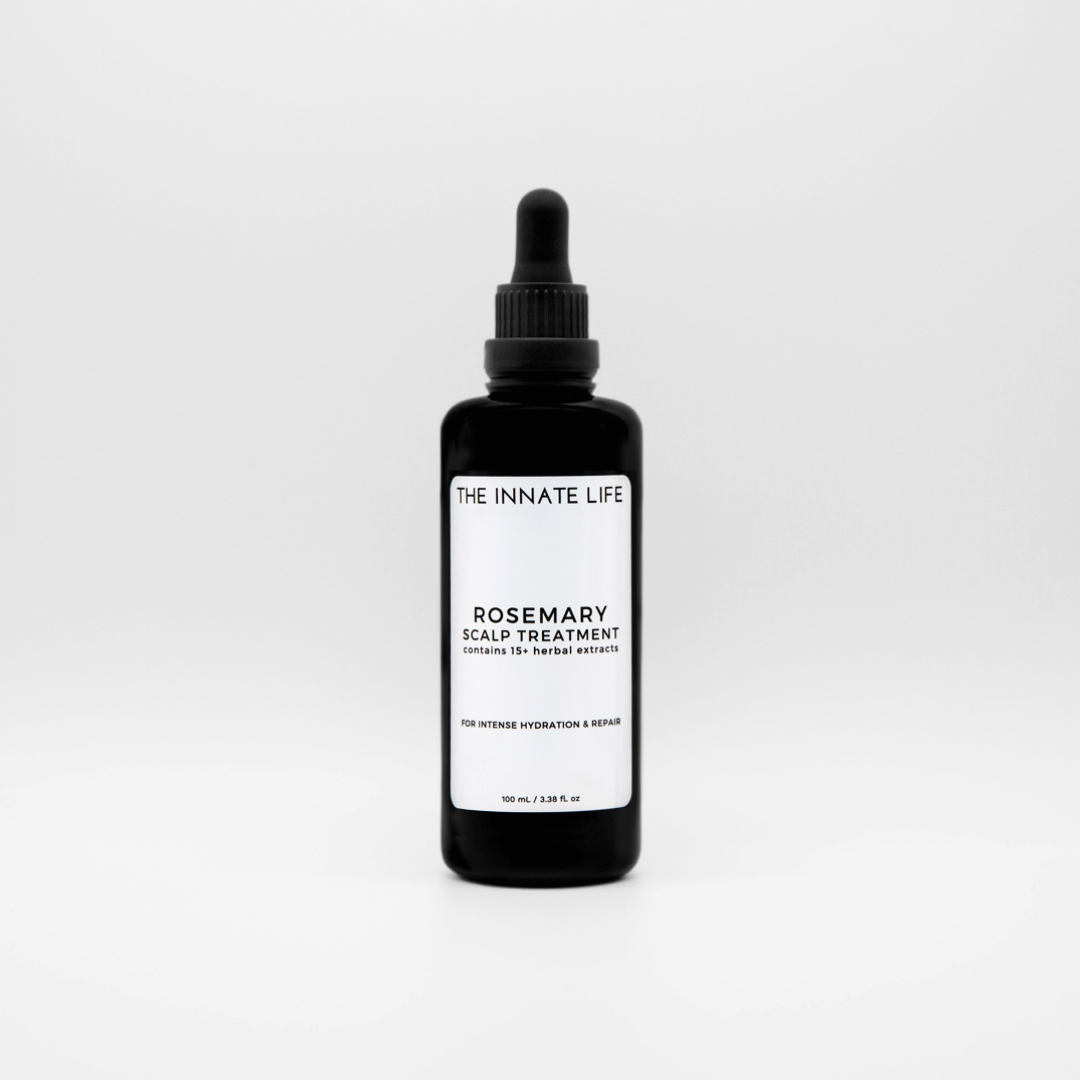 Rosemary Scalp Treatment
ABOUT THE DERMA ROLLER
The Innate Life Derma Roller is your new best friend for reviving your scalp and hair follicles. It contains 540 high strength medical grade titanium needles to activate damaged or dormant hair follicles, maximize absorption of hair treatments, and encourage new + fuller hair growth.
540 high strength titanium micro needles

Medical grade

0.5mm needles

Activates damaged or dormant hair follicles

Maximizes absorption of scalp treatments

Encourages new + fuller hair growth
Microneedling is a method for creating small entry points, known as microwounds, across your scalp with the use of needles at the length of 0.5mm or more. Microneedling encourages the wound healing process to reactivate follicles for improved hair growth + quality, and increases effective absorption of hair treatments.
Activates damaged or dormant hair follicles. Hair growth goes through 3 phases: anagen (hair growth), catagen (follicle shrinkage), and telogen (hair fall). Microwounds activate the epidermal stem cells and wound healing process for follicles in the telogen phase. This induces regeneration and helps damaged or dormant follicles re-enter the anagen phase, re-activating hair growth.

Maximizes absorption of scalp treatments. Microwounds increase permeability for reliable + consistent absorption of scalp treatments, compared to oral medications. Direct absorption avoids the need for digestion, which degrades the effectiveness of treatments.

Encourages new + fuller hair growth. Microneedling triggers revascularization of the skin to bring nourishment to the follicles + induce stem cells for repair by causing microwounds. The microwounds will function as vasodilators - reactivating and reopening the follicles' access to receive nourishment, proteins, and nutrients from the body.
Microneedling activates the Dermal Papilla (DP) cells and epidermal stem cells by creating microwounds. The dermal papilla (DP), a cluster of specialized fibroblasts, regulate the growth and activity of the various cells in the follicle, thereby playing a key role in the regulation of hair cycling and growth. Hair follicle regeneration begins when signals from the DP cells reach the epidermal stem cells that are responsible for wound repair.
Based on a study of microneedling with shaved mice, the reactivation of hair follicles will result in hair growth, with or without application of hair treatments after microneedling. This study indicates that micro needling therapy using a derma roller is an effective hair growth treatment.
In patients with Androgenetic Alopecia (AGA), the affected hair follicles are shrinking, resulting in shorter, weaker strands similar to the invisible hair strands on the body. The follicles have a shorter growth phase, and become more sensitive to DHT that blocks proteins + suffocates the follicle. This leads to reduced hair density in affected areas.
DIRECTIONS: Spray rubbing alcohol or sanitizing cleaner on the roller head before use and allow it to dry. Apply light pressure and roll gently on the dry scalp. Roll 5-10 times back and forth on troubled areas or full scalp, at least once a week. Apply your scalp treatment(s) on the full scalp after rolling for maximum absorption. Sanitize the roller head and store the derma roller in the storage container when not in use. Replace every 3-6 months or when needles feel blunt.
CLEANING + SANITATION GUIDE
Before use, we recommend spraying rubbing alcohol or a sanitizing cleaner on the roller head and allowing it to dry.

After use, sanitize the roller head and store the derma roller in the storage container.

We advise using our derma roller on a clean scalp. If your scalp is not freshly clean, we recommend using a damp cotton pad with soapy water or shampoo, lightly dab along your scalp line to clean away oils and buildup, then gently use the Derma Roller.
ABOUT THE ROSEMARY SCALP TREATMENT
Hair growth starts at the root. The Rosemary Scalp Treatment is packed with over 15 herbal extracts that nourishes and stimulates your scalp. It is the ultimate product to help you achieve thicker, fuller and healthier hair. Used a couple times a week, the Scalp Treatment will provide intense hydration and repair the scalp for optimum growth. Its relaxing herbal scent makes it an essential part of any self-care day. Size: 100 mL

Our Rosemary Scalp Treatment contains 32 ingredients and each ingredient is key for optimal hair health + growth. There are absolutely no fillers in this product. Each ingredient has been thoroughly researched and intentionally selected.
Rosemary Essential Oil has been used for centuries to stimulate blood circulation in the scalp, prevent hair loss, slow down greying, and combat scalp irritations. Often compared with minoxidil (a popular drug), it improves circulation in the scalp + encourages cellular turnover - both improving hair growth + preventing hair loss. This is why our formulation includes Rosemary in two forms: herbal extract and oil form.

Castor Oil is high in Vitamin E, Omega 6 + 9, and ricinoleic acid. Ricinoleic acid balances the scalp's pH level, providing the perfect conditions for hair growth. It also supports keratin and increases overall hair thickness with high amounts of antioxidants. This ingredient is key in combating thinning hair and bald patches.

Bhringaraj is an Ayurvedic herb found throughout India and the southwestern U.S. The best Ayurvedic remedy for hair loss + premature greying, its name means "ruler of the hair". It also helps hair become dark, dense and lustrous, giving it a fuller appearance while supporting natural hair growth. Ayurvedic herbs are the oldest practice of natural medicine, known to 'cleanse' the body, boost protection, and provide natural benefits for your hair and health. This is why the formulation also includes Brahmi Leaf Extract, Amla Fruit Extract, Tulsi Leaf Extract, Neem Leaf Extract, and Shikakai Nut Extract.

Fo-ti is an herb native to China, known for its ability to slow down greying and soothe itching. Research and data strongly suggest that Fo-ti Extract may promote hair growth by elongating the anagen stage (hair growth) and/or delaying the catagen stage (hair regression). This herb works to improve hair retention and longevity.

Green Tea is known to contain health benefits, including for hair, which can be attributed to the active compound EGCG. In one small study, researchers added topical green tea-derived EGCG extract to the scalps of three participants with alopecia. After 4 days, the participants experienced significant increases in hair growth activity. EGCG maximizes hair growth by stimulating hair follicles and preventing damage to skin + hair cells.
Dihydrotestosterone (DHT) is the hormone responsible for body hair growth. The proteins around your follicles allow testosterone and DHT to bind to them, resulting in hair growth. This natural process becomes a problem when DHT binds to the proteins and clings on for too long, suffocating your follicles, and making the growing hair much weaker on output. Luckily, there are ways to block DHT: natural ingredients can prevent DHT from clinging onto your follicles, while stimulating hair growth.
Pumpkin Seed Oil is an effective DHT blocker, known to solve male pattern baldness by increasing hair count. It actively blocks 5-alpha reductase, the enzyme responsible for converting regular testosterone into DHT. Less DHT means less follicle miniaturization, letting your hairs grow out and receive proper nutrients.

Red Clover Extract is a flowering plant that belongs to the legumes family, alongside peas and beans. The biochanin A found in Red Clover Extract inhibits the 5-alpha reductase activity responsible for androgenic alopecia. As it works to inhibit follicle shrinkage, it improves hair anchoring and retention.

Fenugreek herb is native to Southern Europe, the Mediterranean, and Western Asia. An animal study has shown that herbal oil mixed with Fenugreek Seed Extract can increase hair thickness + growth. This herb slows down the clinging of DHT and improves circulation to your follicles, effectively treating hair loss.

Saw Palmetto Fruit Extract is a natural remedy used for treating hair loss. Native Americans used this plant and its berries as medicine + food for hundreds of years. Research suggests an extract of Saw Palmetto berries may block 5-alpha reductase. With regular application, this herb works by increasing hair count.
FULL INGREDIENTS LIST: Castor Seed Oil*, Sweet Almond Oil*, Olive Oil*, Pumpkin Seed Oil*, Hemp Seed Oil*, Macadamia Oil*, Avocado Oil*, Black Cumin Seed Oil*, Argan Oil*, Jojoba Seed Oil*, Bhringaraj Leaf Extract*, Brahmi Leaf Extract*, Amla Fruit Extract*, Tulsi Leaf Extract*, Neem Leaf Extract*, Shikakai Bark Extract*, Fenugreek Seed Extract, Ashwagandha Root Extract*, Fo-ti Extract*, Saw Palmetto Fruit Extract*, Red Clover Extract*, Nettle Leaf Extract*, Green Tea Leaf Extract*, Rosemary Leaf Extract*, Grape Seed Extract, Burdock Root Extract*, Dandelion Root Extract, Horsetail Plant Extract, Peppermint Essential Oil*, Rosemary Essential Oil*, Orange Peel Essential Oil*, Tocopherol/Vitamin E.
*CERTIFIED ORGANIC INGREDIENTS
DIRECTIONS: Apply to dry hair before wash. Section hair in the middle using a tooth comb and apply directly on the scalp using the dropper. Keep sectioning hair until the treatment is on all parts of the scalp. Massage the scalp for 3-5 minutes. Leave on for a few hours or overnight. Shampoo twice. For best results, use 1-2 times per week for at least 90 days. Our products are extremely concentrated and pure thus a little trial + error is required to figure out the right amount that works best for you! If you experience oil residue after shampooing twice, you've applied too much. Start with a small amount and adjust accordingly. Keep in a dry, cool space (away from sunlight).
REAL RESULTS USING OUR PRODUCTS
DISCLAIMER
Always perform a patch test before applying our products. Natural + herbal products can still cause adverse reactions if you are allergic to a specific ingredient. Do not use if you have any nut allergies. Discontinue use right away if there is an adverse reaction. Results may vary with every individual. For best results, consistency is required when using the products. We do not recommend the Derma Roller for use on your face. We do not recommend this tool for use on highly problematic scalps/skin irritations (such as eczema or psoriasis) due to their increased sensitivity and risk of further irritation.