The Most Important Relationship You'll Ever Have 
How to Create a Great Relationship With Yourself
Something that has always been ongoing for me is the desire to love myself unconditionally. I feel like we're always told our early high school days will be the most damaging to our self-esteem, but I argue that it's during your twenties when you'll really question your purpose in life and doubt your worth…. sounds fun right?  I think these feelings arise because at this point in in our lives we're often focused around career development, self-sufficiency and "settling down", as they call it. These phases in life come with high expectations that are sometimes impossible to meet and we're left feeling down on ourselves. With it being Valentine's Day and all, I think it's time we remind ourselves just how far we've come and WHO got us there. Becoming conscious of how we talk to ourselves can stop negative thought patterns, and practicing self-love simply makes the hard stuff more bearable. Here are a few tips on how to create a great relationship with yourself:
1. Be Mindful
Any self-help article you read will mention something called "mindfulness". While it is trendy, it also has a lot of truth to it. Have you ever caught that little voice in your head saying negative things about yourself? Maybe it's telling you're lazy when you don't feel like doing the dishes, or you aren't worth your job when you're late on a deadline. Before you write yourself off as a pessimist or a negative-thinker know that this is common and by monitoring your thoughts you can silence this voice.
An article from Psychology Today States that mindfulness encourages us to beware of our thoughts without indulging in the negativity behind them. When a negative thought approaches – rather than give into it – we ought to acknowledge it as just a thought, whether it be true or not. This practice can help you take your thoughts less seriously and you can let them go as easily as they arose. Meditation is a great way to practice this release of negative thoughts (or any thought for that matter) and calm the mind and body. However, you don't need to be a professional Yogi to implement in this in your daily life. Next time you feel self-critical or ambushed by negative thoughts take a second and acknowledge these thoughts as simply just thoughts passing through, and then let them go. I promise this will get easier with practice. Check out mindful.org as a great resource for beginners.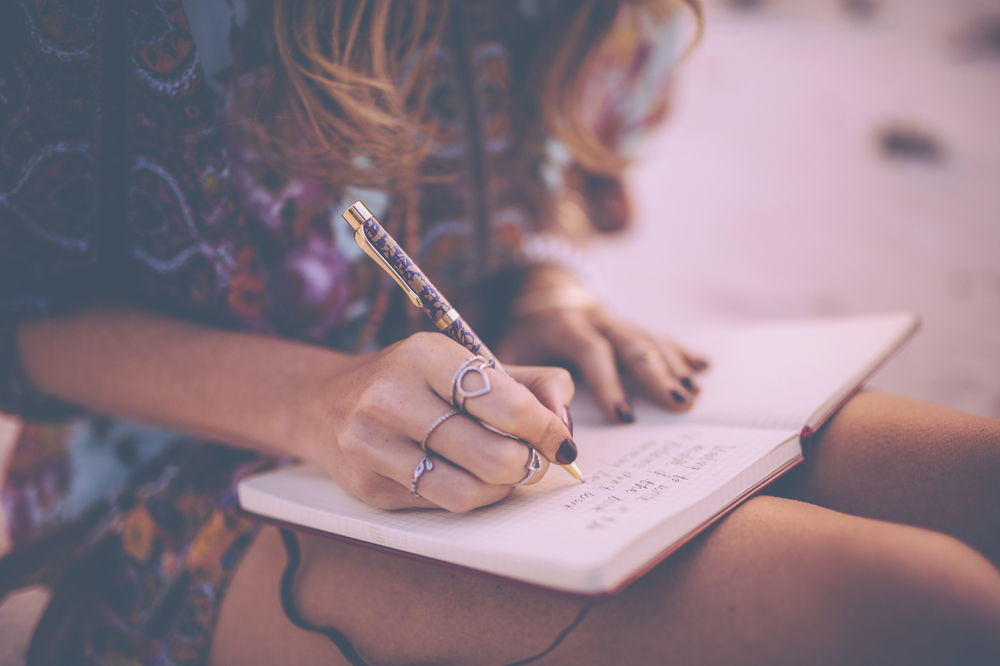 This one is huge for me and goes hand-in-hand with being mindful. Mindfulness is a great daily tactic you can use to combat negative thoughts, but sometimes those thoughts are so deeply embedded in our perception of who we are they require a little more attention. When a thought is reoccurring and inhibits you from being the best version of yourself, it may be time to explore why. Think of your time spent writing as a therapy session – you can write anything without judgment. More often than not, these repressed feelings just need to be expressed and then we can begin to let them go.
I know once I've worked through these more complex thoughts I feel a sense of closure. That way, if they ever come up again, I can remind myself I've dealt with this before and I can now move on. If you need more reasons to journal Huffington Post lists some great benefits here. 
You've heard it many times: you've got to make time for yourself, treat yourself, invest in some "me-time", but is it really that easy? Personally, this is very challenging for me because I find it hard to relax and focus on myself when there are so many other things I could be doing. I know how good it feels to do something I enjoy yet the powerful force of household chores always lures me away from the R&R I need. But here's the thing I discovered! Taking time for yourself or doing something you enjoy doesn't need to be a full-blown spa day or a lavish shopping spree. In my experience, it's much more effective to have a few simple things you can turn to when you feel the need for some me-time. For myself, when the workday is all said and done, I love to plop myself down in front of my favorite T.V. show (usually re-runs of Seinfeld) and paint my nails. This is my little pick-me-up and every time I sit down to paint my nails I consciously think about how much I enjoy it. This helps me separate something I want to do from something I feel I have to do.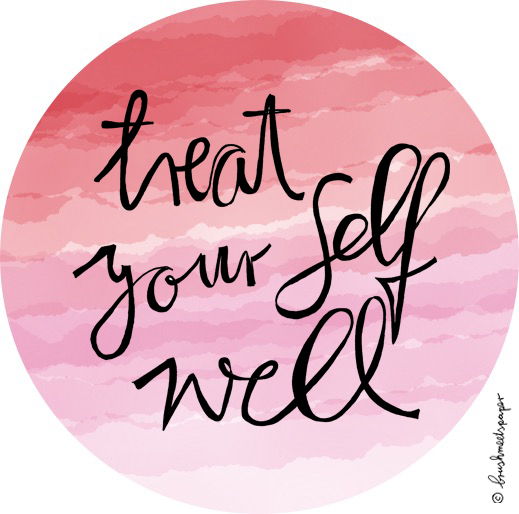 While these are just a few tips on how to practice self-love, they are simple enough to start today. Look at these tips as stepping-stones to something bigger and more powerful in creating a great relationship with yourself. For example, once you make a habit out of being mindful you can take it a step further and change your negative thoughts to positive thoughts. If journaling is something you enjoy you can expand onto other ways of expressing yourself, such as poetry or painting. And once you prioritize time for yourself you just might be able to book that luxurious spa day absolutely guilt-free.